This moving oil painting entitled 'Remnants of an Army' is by Elizabeth Thompson (Lady Butler, 1846-1933), and was created in 1879. It depicts William Brydon returning from battle in 1842 and is held by London's Tate Gallery, but apparently not on display. Born in 1811, he was an assistant surgeon in the British East India Company Army (Elphinstone's Army) during the First Anglo-Afghan War. Regardless what one might think of this war, it is remarkable that Brydon was one of only 115 British officers and soldiers out of an army of 4,500 men who survived what is known in common parlance as the Khyber Pass Massacre. Butler's painting shows an exhausted figure on an equally exhausted horse.
The artist who created this evocative painting specialised in history paintings, especially military battle scenes. This is probably how she came to meet Sir William Francis Butler (1838–1910) from Tipperary, a distinguished officer of the British Army, They married in 1877, two years before she painted 'Remnants of an Army'. The artist travelled to the far reaches of the Empire with her husband and still managed to raise their six children. During this time Lady Butler came to appreciate her Irish husband's belief that the colonial imperialism of the United Kingdom and other European powers might not be in the best interest of natives in colonial lands.
Despite his ordeal, Brydon lived on for another 30 years after the battle and died at his home, Westfield, near Nigg, Ross-shire (on the nearby Nigg Peninsula) on 20 March 1873. He is buried in Rosemarkie Cemetery on the Black Isle (a peninsula on the North Sea coast of Scotland) alongside his brother-in-law Donald MacIntyre VC who was a highly decorated Major-General in the Indian Army and lived in Fortrose on the Black Isle. Brydon's gravestone is a dignified but modest memorial, easily overlooked.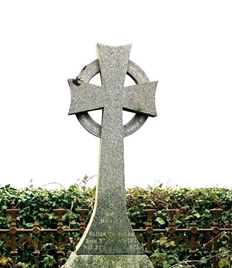 If you wish to delve even further into the past, you may want to visit Rosemarie Museum, but BEWARE, you might get hooked on the mysteries of Pictish art – masterfully carved stones recounting Pictish times (c. 6th to 9th c. AD) – and want to go on the Pictish Trail! Ardgay Bespoke Tours would be happy to show you Brydon's grave, find out where he lived and also take you on the intriguing Pictish Trail. Of course, you would hear about lots more than the distant past. There is so much to see and enjoy on both the Black Isle and Nigg peninsulas – not least the wonderful people who live there, Rosemarkie's red shoreline, countless welcoming eateries, antique shops and little museums – and bottle-nosed dolphins twice the size of their cousins in Californian waters. Please follow us on Facebook and feel free to contact us via the Ardgay Bespoke Tours website.